March 27, 2018: Blog on "Deep Learning to Study the Brain to Improve Deep Learning" is Live.
January 2017: Shavit Lab's PPoPP 2017 paper,
A Multicore Path to Connectomics-on-Demand is selected for
Best Paper Nominee.
---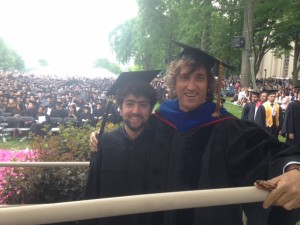 June 3, 2016, MIT Commencement: Congratulations to new graduates,
Gregory Odor and Hayk Saribekyan!
(Pictured: Hayk Saribekyan and Professor Nir Shavit.)
---
February 2016: The Shavit Lab has been awarded research funding under the IARPA Machine Intelligence from Cortical Networks (MICrONS) project.
---